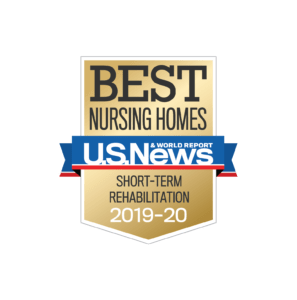 Prairieview at The Garlands, 6000 Garlands Lane, Barrington, earned the designation of 2019-20 "Best Nursing Home" for short-term rehabilitation from U.S. News & World Report.
Prairieview was one of only 63 providers in Illinois to achieve a rating of "High Performing," the highest possible rating, for short-term rehabilitation. U.S. News & World Report rates the nation's 15,000-plus nursing homes using publicly available data and an exclusive methodology to evaluate factors that impact patient and resident care, safety and outcomes.
"To be ranked in the top 19 percent of skilled nursing programs in the nation is a remarkable accomplishment and a true testimony to the quality and value The Garlands offers our members in the event they should ever need short-term rehabilitative care," said Dawn L. Kempf, The Garlands Vice President, Sales Marketing and Health Care.
Prairieview at The Garlands offers around-the-clock assisted living, memory care and skilled nursing services within the context of The Garlands of Barrington, a premier Life Plan Community, located at 1000 Garlands Lane, Barrington, IL. While Prairieview's assisted living and memory care services are open to the public, the highly rated short-term rehabilitative skilled nursing program exclusively serves Garlands independent or assisted living members who currently live at The Garlands. As such, the peace of mind that comes with having convenient access to top-notch, short-term rehabilitation care at Prairieview is an added benefit that is offered solely to Garlands members.
In addition to national recognition for quality care, Prairieview at The Garlands offers larger-than-usual, open floor plans; inclusive, competitively-priced services; highly qualified caregivers with high staff-to-resident ratios and registered nurse (RN) levels that exceed state guidelines; the finest in Garlands living with signature cuisine, service and amenities and, last but not least, an award-winning life enrichment program.
 The Garlands of Barrington, located near the heart of Barrington at 1000 Garlands Lane, is a Life Plan Community for people ages 55 and older, offering members an uncompromising lifestyle in a resort setting with unprecedented amenities, services and a complete continuum of care. For more information, please call 847-304-1996 or visit thegarlands.com.
U.S. News & World Report is the global leader in quality rankings that empower people to make better, more informed decisions about important issues affecting their lives. A digital news and information company focused on Education, Health, Money, Travel, Cars, and Civic, USNews.com provides consumer advice, rankings, and analysis to serve people making complex decisions throughout all stages of life. Founded in 1933, U.S. News is headquartered in Washington, D.C.