The Garlands is delighted to welcome Executive Chef, Glenn Zamet, who shared his recipe for success at the Barrington retirement community (now if we could only get his recipe for crab cakes!).
Where did you attend culinary school?
Johnson & Wales University in Providence, Rhode Island.
Prior to The Garlands, where did you work?
I served as the Executive Chef at Park Ridge Country Club for the last 20 years.
What is your favorite dish to cook?
Seared sea scallops with a creamy, truffle risotto.
What do you consider your greatest achievement?
When I was the Executive Chef at The Art Institute of Chicago, I cooked for 150 Chicago Chefs who voted mine the "best dinner of the year."
Who is your favorite famous chef?
Julia Child (simple food with great techniques); Anthony Bourdain (no-nonsense, rock 'n' roll star of the culinary world; his cooking was to the point); Thomas Keller (reinterpreted classic haute cuisine in a personal, playful, and thoroughly American way).
What is your favorite "go-to" Friday night family night dinner at home?
Chicken Milanese, fresh pasta Pomodoro, fresh seasonal salad, and crusty ciabatta bread.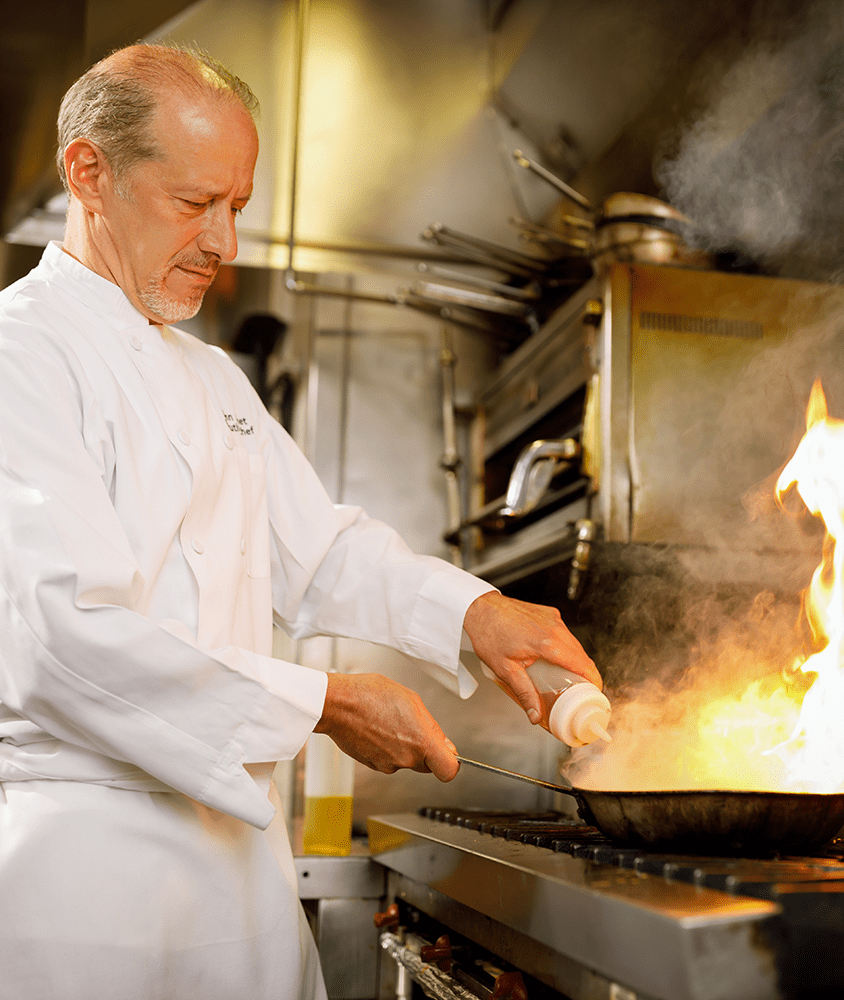 What is your signature dish?
My crab cakes seem to be a favorite at The Garlands.
What's your favorite vegetable?
My favorite vegetable is actually a fruit: There is nothing more delicious than a fresh, vine-ripened, heirloom tomato in late summer with a sprinkle of sea salt, fresh ground pepper, and olive oil.
What is your most valued quality in a colleague?
A passion for cooking and honesty.
Which is your most treasured kitchen utensil?
My mom bought me my first Chef's knife with my initials engraved on it. I still use it today.
Why cooking?
To me, it's about love and a passion for food and the memories that it creates.
What was your worse kitchen disaster?
At my first Sous Chef job, I had to make matzah ball soup for 200 people. I used my Grandmother's recipe times one hundred, and the matzah balls were like golf balls. Everyone hated them!
What was your best compliment ever?
A clean plate and a smile.
What is your motto?
The Chef is ALWAYS right!
Welcome Chef! We're so glad you're here!