Sharing breathtaking views atop a snowy Colorado mountain is a real thrill for Gary and Sue Ellen Griffin.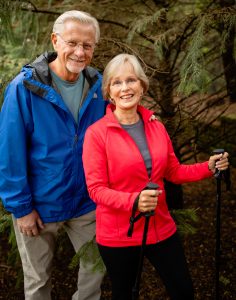 Be THRILLING
Family ski trips that started when their three boys were in grammar school continue today…with the addition of seven grandchildren on the slopes!
They've been risk-takers and adventurers from the get-go.
Sue Ellen took the first big chance by asking Gary to a Wheaton College turnabout dance.
"I've been extremely thankful ever since!" says Gary.
Gary takes risks too. After years in the investment industry, he and three business partners started their own successful firm, which they eventually sold to BMO Harris Bank.
Trading in their 23-acre family home in Long Grove, where they grew alfalfa, to move to The Garlands was another fruitful gamble.
---
Here they enjoy the freedom to lock the door and travel without worry, host family holidays with room to spare and hike the Cuba Marsh trails that are just steps outside their villa door.
Being grounded in their faith and church helps them find the courage to take chances and grasp all of life's possibilities.
---