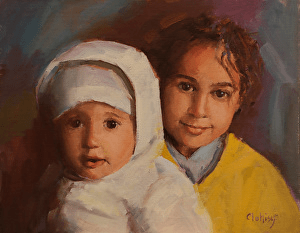 Painting Syria's Children: The Refugee Portrait Project
Artist Dee Abbate, 76, of Oakwood Hills, felt helpless for years and driven to despair as she watched news footage of the Syrian civil war, the growing Middle East refugee crisis, and, above all, the children affected. Unable to just do nothing, Dee organized a group of artist friends to paint portraits of Syrian children caught in the crosshairs. The group, now 23 strong, has taken the changing exhibit on the road and donates 100 percent of the proceeds to charities aiding those least protected. World Vision features the Refugee Portrait Project on its website.
Artist Diane Ward asks, "What parent wants to see children go through this? They feel forgotten by the rest of the world." Dee adds, "Everyone can find a way to help. We must use our talent or career skills to make life possible for others. It's a way to return the gift or pass it on." The Garlands is honored to exhibit this collection for the months of September and October with an art reception on September 9th.