Pictured left to right, Georgiy Kozlov, Maintenance Technician, Francisco Zapata, Painter, and Bogdan Perkowski, Maintenance Supervisor, have cared for The Garlands almost since opening day – they know every nook and cranny of The Garlands buildings' 1.3 million square feet.
A Career of Caring
From managing a 325,600-square-foot re-roofing job to changing a chandelier light bulb, The Garlands of Barrington maintenance team has been on the job 24/7 for over two decades.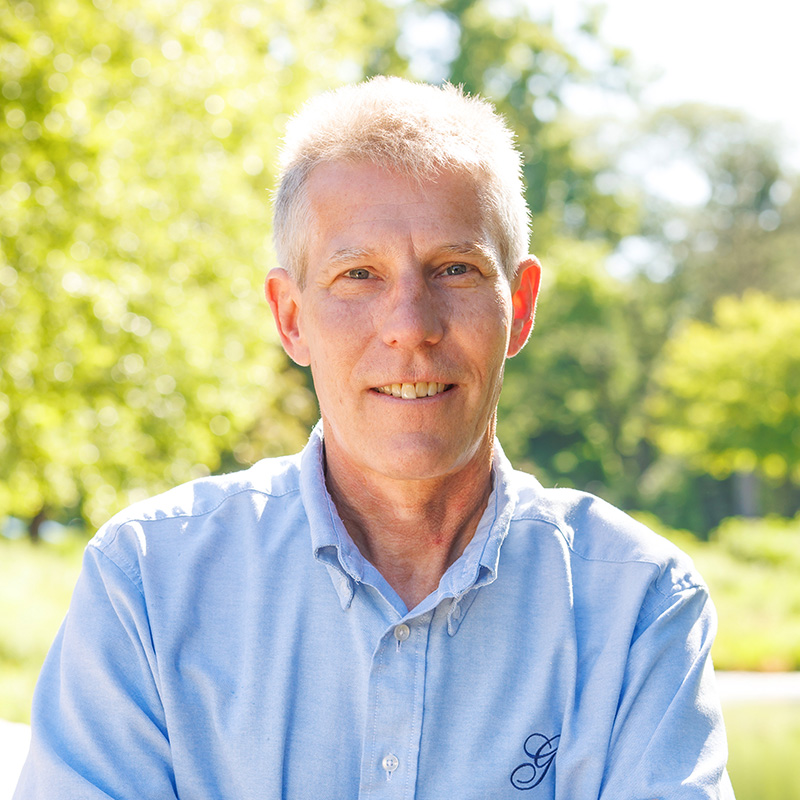 "For many of us, maintaining The Garlands has been our life's work."
~ Scott Weimer, Director of Maintenance at The Garlands.
At The Garlands, first impressions matter! Due to its award-winning design, quality construction, and 20 years of meticulous preservation, The Garlands physical plant continues to create a stunning first impression for all who visit the northwest suburban life plan retirement community.
Scott Weimer, Director of Maintenance at The Garlands, is the first to point out that housekeeping, grounds, and interior design all play important roles in creating a positive first impression. However, when it comes to the buildings' overall interior and exterior upkeep, The Garlands maintenance team is in the business of making lasting impressions.
An Ounce of Prevention
Behind the scenes, responsibility for interior and exterior maintenance of The Garlands includes plumbing, lighting, electrical, heating and ventilation, refrigeration, appliances, windows, doors, cabinetry, paint, and snow removal.
In addition, the team manages all preventive maintenance and related inspections of Garlands HVAC systems, boilers, generators, kitchen equipment, roofs, garage doors, sprinkler and fire alarm systems, and pool.
But the work that The Garlands team is most known for is tending to all member requests for in-home support including general maintenance, appliances operation and repair, picture hanging, basic furniture repair, and lighting.
"We're among the first to get to know new members because we help hang their pictures when they move in," says Weimer, who is a firm believer in the adage that "little things matter."
"Over time and the course of a drippy faucet or a light bulb change, we develop relationships with them," says Weimer. "They know we want to get the job done right."
Stewards of the Community
Twenty years (and a few grey hairs) later, Scott now directs the maintenance team of twelve – two full-time painters, an HVAC and refrigeration technician, an electrician, four maintenance generalists, a supervisor, and an administrative assistant.
Currently celebrating The Garlands 20th Emerald Anniversary, Weimer says, "We are stewards of maintaining the same tradition of excellence that attracted us to work here in the first place."
Of his dedicated team, he adds, "We respect one another's opinions, we work through problems together, and we have a sense of ownership for The Garlands."
For more information about The Garlands call 847-304-1996.
The Garlands by the Numbers
No matter how you quantify the scope, maintaining The Garlands legacy of top-notch quality adds up to a big job!
1.3 million square feet of buildings
1,100 toilets
1,600 faucets
325 furnaces and air conditioners
3 generators
262 apartments, 26 villas, 70 skilled nursing, memory care, and assisted living apartments, and 14 guest suites
A 50,000-gallon, second-story indoor swimming pool
1 snowplow truck, 2 John Deere tractor plows and snowblowers, 12 shovels, and 7 golf carts for salting and efficient staff transport
3 commercial kitchens and 2 satellite pantries
370 refrigerators, 288 ovens, 288 dishwashers, and 288 microwaves