The artwork of lifelong artist and Garlands member Nancy K. Wilson is on display in collections and homes throughout the United States and Asia, but her private pieces will be featured in an exhibit now through December 31, 2019 at The Gallery at The Garlands of Barrington, 1000 Garlands Lane, Barrington.
The public is invited to view the exhibit daily from 8am to 4:30pm free of charge. Meet the artist Nancy K. Wilson in person at an Artist Reception on Sunday, November 10, from 3 to 4:30pm at The Gallery. Guests can enjoy a glass of champagne or fruit punch while learning about Wilson's fascinating career as an artist and sculptor. Her sculptures will be on display only during the Art Reception. For more information, please call The Garlands concierge at 847-756-3000.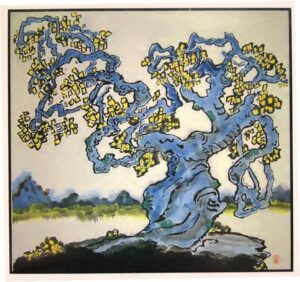 A prolific painter and sculptor, Wilson studied art at various academic institutions and with individual masters whose philosophy and techniques she admired. The serious study of Asian influence on contemporary western art led to some of her most celebrated paintings, thirty-five of which have been exhibited at well-known fine arts academies in Qufu and Beijing and three at the China History Museum.
Wilson's sister and foremost fan, Sally Leffew, who also lives at The Garlands, poignantly describes Wilson's work saying, "In a yin-yang sense, her Chinese ink and brush paintings are simultaneously strong and delicate, a uniquely western contemporary interpretation of Chinese tradition."
The Garlands exhibit includes contemporary Chinese paintings, prints, reliefs and oil on canvas paintings created over the years by Wilson.
"I am thrilled and honored to have this wonderful display of my artwork," says Wilson. "The exhibit showcases the use of many different mediums that evolved through my life, and I was so fortunate to be blessed with the enjoyment and satisfaction the world of art has given me."
As a sculptor, Wilson was commissioned to produce reliefs and life-size portraits in bronze for Indiana University School of Medicine, University of Missouri Kansas City School of Medicine as well as numerous private projects. Wilson says that she is best able to relate her view of "the theatre of man" through simplicity of form and strength in design.
Raised on Chicago's northwest side, Wilson married and raised three children while pursuing her artistic passion. She traveled the world, opened her own art studio, wrote about her experiences and taught. Today she continues to sketch and to create with fellow artists in the art studio at The Garlands.
"I'm so very proud of my sister and grateful she followed her dream of studying art and allowing her feelings, thoughts and abilities to flow through her beautiful artwork," says Leffew, "Between the two of us, she definitely inherited the artistic genes from our father's side of the family!  And what a wonderful venue here at the Garlands to present her works for fellow Garlands members and the public to view."