Karen Stathakis is moving in a healthy direction at a pace of 4,000 steps a day – as tracked by her Fitbit!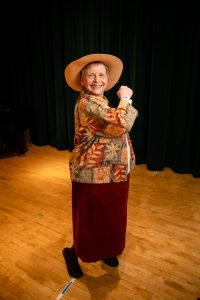 Be FREE
After years of caregiving, raising two sons, maintaining a home and juggling a career, Garlands member Karen is free at last to pursue her passions and step into the spotlight: on stage as Maria from "The Sound of Music" with The Garlands Play Readers, as a member of The Garlands New Neighbor Committee and with Bible study, fitness classes, continuing education lectures, and meals with friends and family.
---
"I'm free to be me!"
Relishing the joy, peace and love connected to becoming her new self and enjoying her well-deserved freedom, Karen is picking up the pace and taking life in stride. She tracks her progress one step at a time…300 to the fitness center, 220 to The Garlands Performing Arts Center and so on as she reaches new milestones in her life's journey.
---