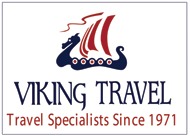 Travel Happily with Viking Travel
LOVE TO TRAVEL? Don't let age stop you. Meet award-winning Viking Travel experts who are dedicated to meeting the special needs of mature travelers. This event is for all ages. Multi-generational travel offers a way to carve out time together, reconnect in a meaningful way, and have fun far from quotidian concerns. Learn how you can experience a completely worry-free and fun-filled vacation, regardless of the ages and abilities of your family and friends. Viking crafts vacations are as unique as you are. Live out your retirement dreams and family goals as you see the world!
Tidbits and tea will be served.