Weather permitting, Garlands golfers swing over to the nearby Makray Memorial Golf Club, a premier 18-hole course, to test their skills, enjoy the fresh air, exercise, and take advantage of their Garlands-sponsored, complimentary, golfing privileges. The challenging course offers strategic bunkers, well-manicured greens, bluegrass roughs, spectacular views, and a great opportunity to get to know their Garlands neighbors. 
Dennis Golbesky, a golfer since the age of seven, appreciates The Garlands golfing perk. He organizes the foursomes so his Garlands neighbors, like Bob Schutte, Steve Bromet, and Darryl Bader, get a chance to share their love of the sport together.
Bob, a former director of contracts for Northop Grumman, says, "When we moved to The Garlands, we didn't know anyone, but you can't help but meet a lot of people when you are here." The nearby golf course and the added benefit of The Garlands picking up members' greens fees was an ace in the hole for Bob who says, "It is nice to have such a challenging course right around the corner."
Steve, a retired Chief Information Officer from Columbus, Ohio, likes to walk the first nine holes for exercise and ride the last. Of the championship-caliber course, he says, "It is a challenging and well maintained course, the people are friendly, and it is very convenient," adding, "Everything about it is good, except my game—but I still have a blast!"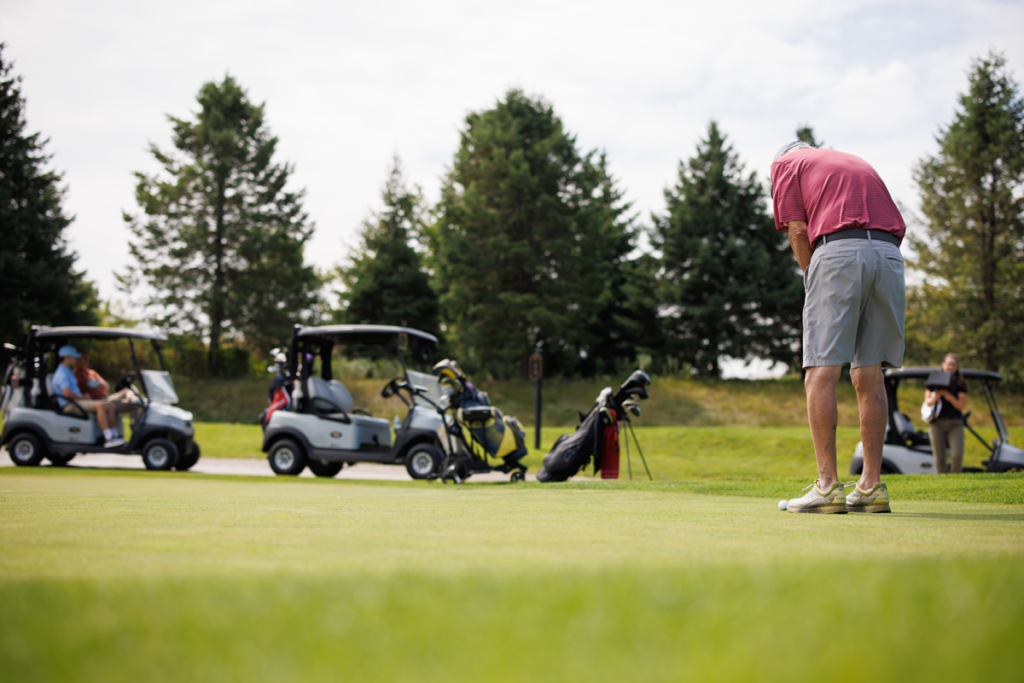 Darryl, a retired Warren Township High School teacher, administrator, and football, tennis, and basketball coach, says, "At my age, I'm lucky I'm still out there!" He enjoys the camaraderie, and jokes, "I don't hit it as far anymore—I think they make bad golf balls these days!" 
Darryl adds, "We really like the beauty of The Garlands. It is like being on a very nice college campus." He says the location is ideal.
"We are right by the Barrington-area library, and Citizens Park is adjacent to the property, so we get our exercise in walking the paths and the nearby trails, and, of course, on the golf course," says Darryl.
While their golf game may or may not be up to par, the guys all agree that they teed up the perfect lifestyle at The Garlands.
Bob says, The Garlands brought their A-game regarding the moving process. "They did everything—and they did a great job." He adds, "The Garlands even helped us find a fantastic realtor—we never formally listed and ended up with three offers above asking! Plus, they coordinated the packing, moving, and unpacking." 
Steve and his wife, Bev, felt that "nothing else compared to The Garlands." They enjoy the unique roof lines of their new fourth-floor, 2,600 square foot home. Steve quips, "My wife calls it a 'penthouse,' I call it the 'attic'!" On the golf course and off, Steve says, "We enjoy everything that they offer here at The Garlands. It is a great life!"