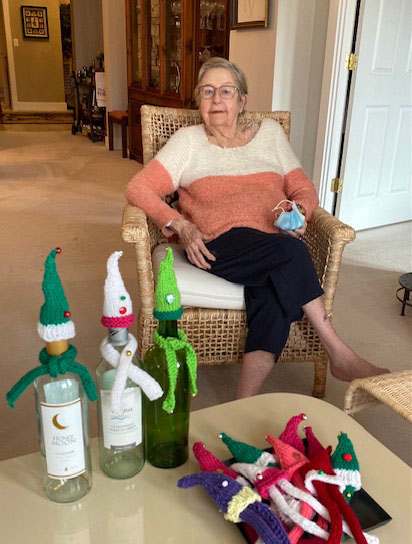 Research proves that being kind can regulate and boost your mood. If that's the case, Garlands member Janet Fear must have moments of euphoria all day long!
Janet, who grew up in Wales, saw a craft and thought, "THAT's how you give a bottle of wine. How cheery." A lifelong knitter, she dug out her tiny needles and taught herself to knit these bottle decorations. She gives them to family and friends as quickly as she can make them so they can add pizzazz to their gifts and tables.
Janet insists she doesn't excel at any of her arts, but we think she is a master at knitting, painting, beading, and, especially, the fine art of thoughtfulness and generosity.
Janet says, "You know, not being able to get out the way we like, you can get a little low. But when I start knitting one of these, I perk right up because it'll put a smile on someone's face. That gives me a little boost, you know?"