It's just another day in the eclectic life of Garlands member Karen Robinson
Fresh off a Lindblad National Geographic snorkeling, kayaking, and paddle-boarding trip to Belize and Guatemala, Karen Robinson proceeded to entertain an audience of 60 friends and neighbors in a Valentine's Day-themed musical cabaret. 
Next, she created a faux iPad out of cardboard and Elmer's glue and frosted a hand-crafted Styrofoam birthday cake, two of several props she's styling for an upcoming theatrical production. And then, she was off to choir rehearsal with the Harper College Festival Chorus.
The daughter of professionally trained musicians, Karen dabbled in music and theater as a child and even starred in the title role of "Peter Pan" at the Woodstock Opera House. A few years later, perhaps inspired by Pan's wanderlust, Karen's college career was cut short when two friends asked if she wanted to travel to Europe with them. She replied, "Sure do!" and they were off!
The trio toured Europe for nine months on the $5-a-day plan, hitchhiking and riding the rails through France, the Netherlands, Germany, and Italy where they bought a dilapidated VW Bug for $300 and continued driving (and repairing the car) through Yugoslavia, Greece, Morocco, and southern France. 
Karen returned to the states enriched, but broke. She embarked on a career as a photo assistant, shooting catalog products for Montgomery Ward and Sears. At the studio she was introduced to the art of prop styling and met her first husband, Dennis.
The couple opened their own studio specializing in commercial food photography. When Dennis passed away at a young age, Karen apprenticed for three years with a mentor and launched what became a 27-year career as a freelance food stylist.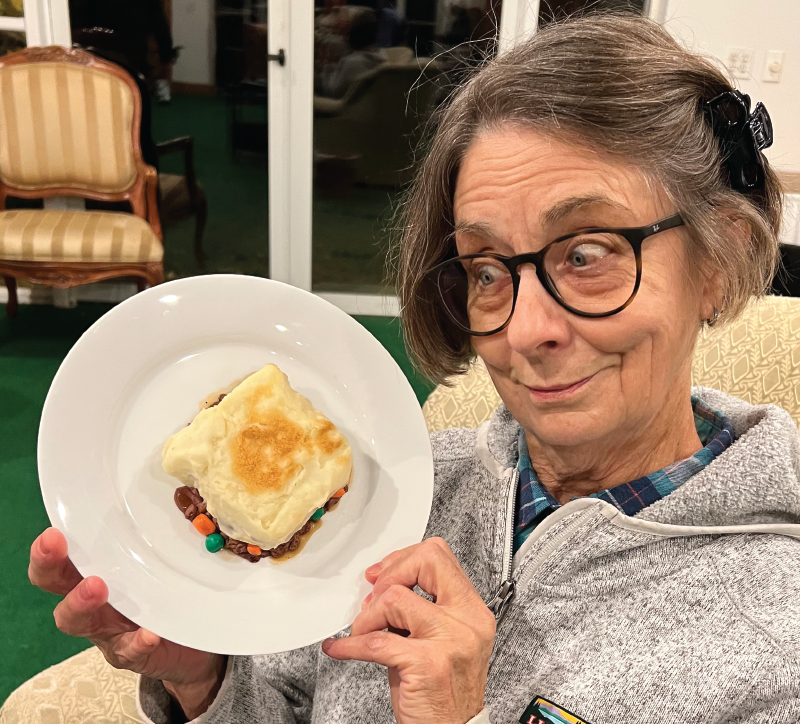 Eventually Karen commuted to her Chicago-based freelance jobs from the British Virgin Islands where she lived with her second husband, Robby, with whom she shared many interests including nature, birding, and snorkeling. After twenty-seven years together, Robby was diagnosed with cancer, and the couple moved to The Garlands to be closer to his medical team.
Since widowed, Karen has rekindled her music and theatrical interests by taking voice lessons and performing with both The Garlands Playreaders and Parker Players Theater Company, for whom she also serves as Prop Master. She also participates in a Garlands book club, plays Bridge, enjoys birdwatching in the nearby Cuba Marsh, and grows veggies and African blue basil "to help create a bee-friendly habitat" in her raised garden.
At The Garlands, Karen happily relinquished home maintenance duties, "so now I maximize my freedom to do the things I'm interested in instead of sitting at home waiting for the washer repairman to come."
Clearly "sitting at home" is not Karen's thing, as she puts the finishing touches on her frosted Styrofoam prop cake and heads out the door to her next play practice.