Garlands Member Marilyn Helberg skipped the second grade—not as a student, but as an elementary school teacher who taught Kindergarten, first, third, fourth and fifth grades. She also wrote district curriculum and served as principal for ten years. "I loved working in education," says Marilyn. "Every day was challenging and fun."
Marilyn's love of learning, calm disposition, and ability to relate with diverse constituents led her to a second volunteer career in her retirement as the chairwoman of The Garlands Members Advisory Committee, affectionately known as "The MAC." A lifelong educator, she is perfectly suited for the task (see "Meet the MAC" on page 2).
Prior to living at The Garlands and upon retirement, Marilyn and her late husband, Ron, moved to Del Webb's Sun City in Huntley, Illinois where they enjoyed living in a community of 50+ seniors for fifteen years. As Ron's health declined, Marilyn's daughter suggested Marilyn consider lifestyle options that would offer a continuum of care if she ever needed it. 
Marilyn agreed. "The minute I walked into The Garlands, I said, 'This is home.' It just offered such a warm, welcoming feeling from the moment I walked in the door," Marilyn recalls.
She chose a Garlands two-bedroom, two-bath Maple floor plan, which is perfect for entertaining her large family. "We can fit 16 for Christmas brunch, and I can easily host parties and have friends over to play cards and games—it all works out just beautifully," Marilyn reports.
When not entertaining family and friends, Marilyn, a self-professed "very social person," plays Mahjong and bridge, attends The Garlands lecture and music series, and comes and goes as she pleases visiting with friends at The Garlands and beyond. 
"It is such a wonderful, social place," she reports, adding "Garlands Happy Hour, events, and joining people for dinner are a great way to meet new people."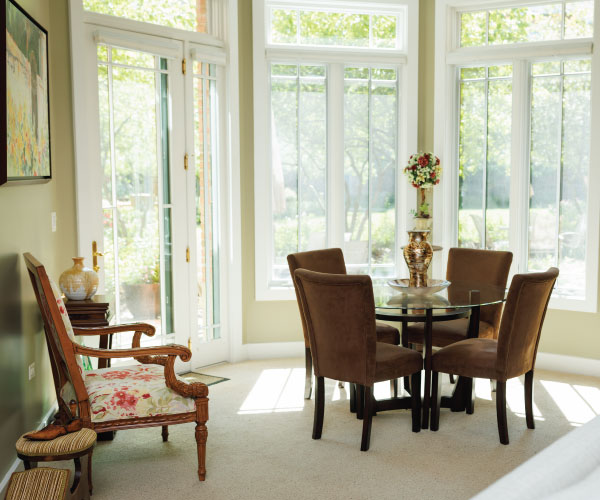 "The unique architecture of the two-bedroom and two and a half-bathroom, Maple floor plan really drew me to it," says Marilyn. She appreciates the lovely great room, walk-in closets, and atrium area that looks out onto her beautiful patio and The Garlands raised garden beds.