Marlene Peterson is a priceless original.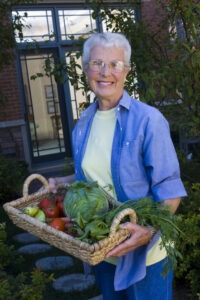 Be CREATIVE
When a Garlands friend asked Marlene if she painted,
she replied, "I don't 'do' art."
The friend's response, "How do you know?"
sparked Marlene's curiosity and creativity.
Dozens of masterpieces later, Marlene exhibits her work at The Gallery at The Garlands and around town, but her true gift is how she puts her artistic talent to good use. A Marlene-original painted rain barrel benefitted the Barrington Area Conservation Trust, donated paintings support worthy causes like Helping Paws Animal Shelter, and above all, the keepsake sketch of her grandsons playing baseball is an artistic "home run" and lasting family legacy.
---
"Do what you love!  You'll be good at it and enjoy life too."
Outside the art studio, Marlene approaches other passions with equal gusto. She's an avid reader who leads The Garlands Book Club…a vocalist who sings in her church choir and performs with The Garlands Play Readers…a Toys for Tots volunteer…and a dietician and foodie who enjoys cooking meals for her Garlands neighbors!
---