"Always my sister, forever my friend."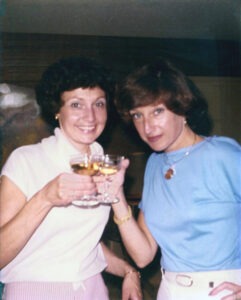 Be FAMILY
Garlands members and sisters Nancy and Sally grew up side by side on the northwest side of Chicago near the famed Riverview amusement park and Wrigley Field. Nancy, the older by two years, attended Alvernia, an all-girls high school. Sally opted for the co-ed St. Benedicts "because it was more fun!"
After graduation, their lives continued to take divergent paths – Nancy raised three children and became a prolific painter and sculptor. Sally parlayed her love for travel and the hospitality industry into a 32-year career in both hotel and corporate procurement with Marriott Corporation.
Oftentimes living on opposite coasts, Sally and Nancy remained close despite the miles. Sally, who decorated her home with Nancy's artwork and represented it to gallery owners, clearly admires Nancy's talent. Nancy calls Sally "the techy one" and is happy to leave managerial and computer tasks to her capable little sis.
Following the loss of their husbands, the sisters chose to live together again, this time a little further northwest of Chicago at The Garlands of Barrington where they enjoy a little sibling notoriety.
---
Many people say, "Oh you're the two sisters – I wish I had a sister to live with me!"
Miles apart or side by side, these sisters – each with her own unique gifts, interests and life stories – remain connected at the heart and at The Garlands.
---