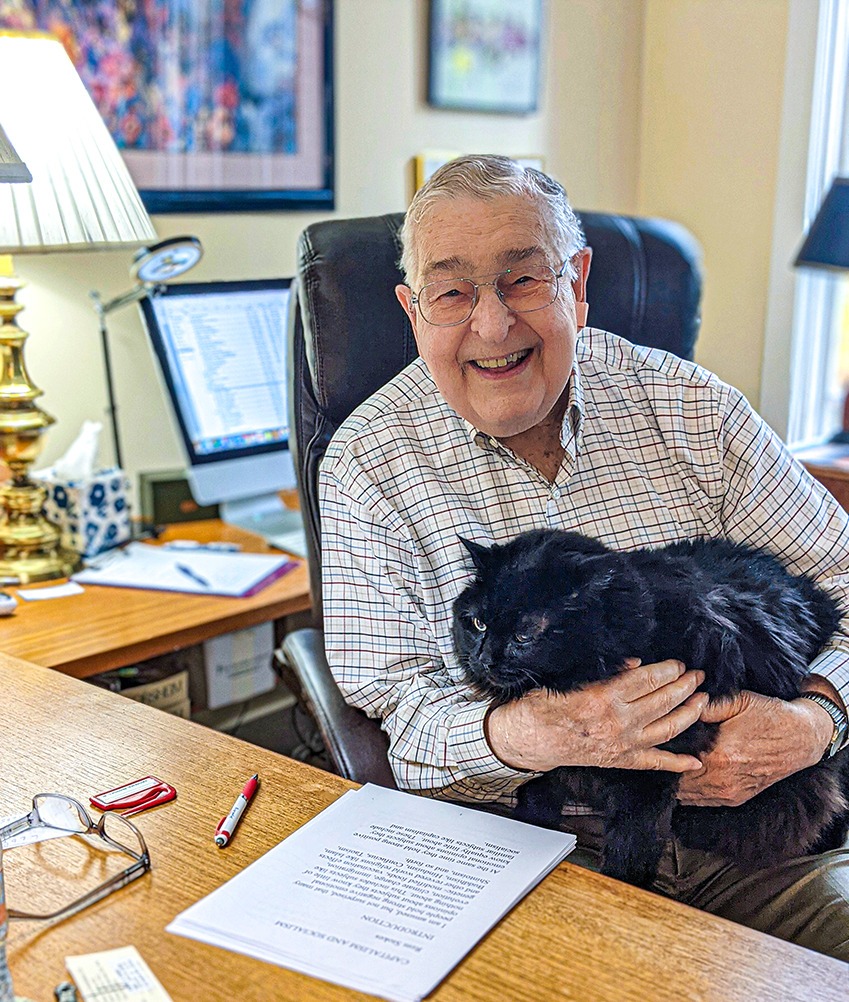 This Christmas, Garlands member Rem Stokes is mailing his family a collection of original essays that he wrote and had FedEx bind instead of the honey-baked hams he usually sends.
Rem jokes that he's the "real ham," who likes to be the center of attention, but he rightfully deserves to be in the spotlight! Following an illustrious career with Bell Telephone Laboratories and Motorola, Rem embarked from his Garlands home on a second act as a philanthropist, published author and popular lecturer.
Rem's curious nature began with tinker toys and erector sets led to degrees in mechanical engineering and education psychology, continued with a career that resulted in 22 active patents and remains nurtured today as a lifelong learner and presenter.
Post-retirement, Rem's curiosity got the best of him while reading Dan Brown's The Da Vinci Code. "I couldn't tell the actual history from the pure fiction, so I decided to dig into it," says Rem. One-hundred books later, Rem not only figured it out, but he taught a popular class on the topic at Roosevelt University's Institute for Continued Learning.
"The idea of learning something and passing it on to others just thrills me," says Rem, who has presented hundreds of lectures, many at The Garlands, on topics as far-ranging as the origins of Christianity to the history of chocolate. Rem says each one starts with a question. "I pick up a pen and ask, 'Who invented the ballpoint?'" 
At age 90 and in the midst of a pandemic, Rem continues to ask questions and search for answers. Early in the shutdown, Rem adopted four personal key objectives to keep him feeling alive and connected.
Learning. Rem calls this time his "sabbatical" and spends at least one hour a day studying various subjects from paleontology to anthropology to biology. He has watched 516 half-hour lectures and counting!
Writing. Rem says his thoughts transform to deeper thinking through the writing process, which takes hours of research and reflection. The result thus far is five, 12-page essays on weighty subjects such as Wealth, Inequality and Racism and Democracy and Capitalism.
Investing. Re-evaluating his stock portfolio in light of the pandemic, Rem revised his investment strategy to include green energy, online retail and Zoom—which is how he and our writer were able to safely meet!
Socializing. Rem's weekly coffee group moved to an online "café" for sipping and solving world problems. He also keeps up with a couple of close friends on Saturday lunch dates.
What's even more remarkable than Rem's sharp mind and quick wit, which anyone who has attended one of his lectures can attest to, is the theme of human kindness and generosity that flows through his presentations, essays, and life choices.
Rem modestly credits "good karma" for his success, but within his infinite wisdom, he surely knows that karma is one's own doing.