Long-time Barrington resident, fashion model, entrepreneur, and philanthropist, DeDe Zwilling is uniquely Barrington. It's only fitting that her home at The Garlands would be uniquely DeDe. 
A self-professed 20-year Garlands "tire-kicker," DeDe and her late husband had their eyes on The Garlands since the pre-construction phase. "I've always admired The Garlands beautiful campus and upscale, resort-style amenities," she recalls.
Fast forward two decades, DeDe sold her home in Wynstone and selected her new residence at The Garlands.
Upon making the decision, DeDe "knew I wanted to make my new Garlands home my own," so she and her daughter, Diane Lickliter, an interior designer, worked together to customize her Garlands penthouse by selecting counters and appliances, tile, wallpaper, paint, finishes and fixtures, and re-imagining DeDe's favorite furniture.
"Having lived in Barrington for almost sixty years, I knew that The Garlands was the only place for me. We're lucky to have The Garlands here in our community." – DeDe Zwilling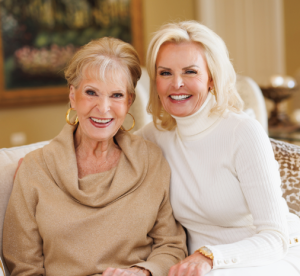 "This was our third decorating project together," recalls DeDe, who enjoyed the design collaboration much like she enjoyed their mother/daughter modeling gigs when Diane was a teen. 
With support from The Garlands team and local providers, including J&S Interiors and Logan Designs, DeDe is now comfortably settled in her modern, "mini" version of her last two homes.
As beautiful and "uniquely DeDe" as her Garlands home is, DeDe is quick to point out one of her favorite features—the ample closets. As a prior owner (along with Barrington business partners Cathy Vincus and Diane Cristol) of Classic Model Productions, an agency that produced fashion shows throughout the northwest suburbs, DeDe knows fashion. Her new, color-coordinated, walk-in closets allow her to go "shopping" through her ample wardrobe for the perfect fashion statement.
As DeDe puts the finishing touches on her home, she enjoys spending time with new Garlands acquaintances, as well as long-time Barrington friends, and supporting local organizations including the Barrington Area Community Foundation, Hospice of Barrington, Advocate Good Shepherd Hospital, and Barrington's White House.
DeDe also shares her social life with long-time Barrington friend, George Yapp. "Between the two of us, we have 13 children living in 11 states, which presents many opportunities to travel and visit," says DeDe.